Week 4: Getting into a work rhythm
I think it's been long enough that naming posts by day isn't important anymore. This post is for the first half of week 4. Our extra scheduled events are on the decline, as planned: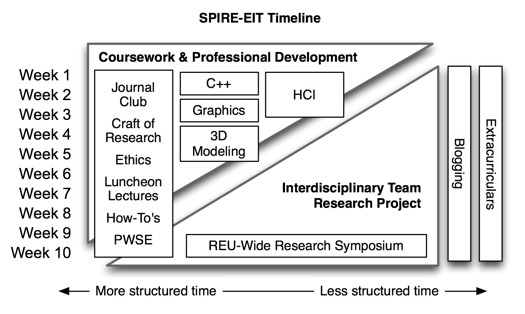 This shift in scheduling means that there's a lot less to talk about besides our actual (currently unpublished) work, and our "deeper dives": small-group trainings on more specific topics. This year, the topics are 3D Printing, Unity Immersive, and Unity Shaders/C6. We'll learn more about these and rank our top choices later.
On Monday, June 18 we had our first day of Unity courses. I've tried to teach Unity before, so I understand how difficult it is. I was impressed by the curriculum and I would've loved to have that when I was bumbling through the platform years ago. On the other hand, the "mess around until it makes sense" method that I used has provided me with a very in-depth understanding of how the pieces all fit together, so maybe it's a draw.
Anyway, my experience in 24-hour coding competitions set me up to make a quick game during the instructional time. It's a simple flight simulator where you get points for flying through randomly-placed rings and lose points for touching the ground.
Tuesday, June 19
I got invited to another wedding. It'll be a stretch, but I might be able to attend both. One is for a childhood friend and the other is a family friend. One in Oregon and the other in Indiana. They're also a week apart.
In the evening, my room put on some swing music and we danced a bit in the living room. Aidan can be a lead or a follow, so that worked out nicely. We'll put on a lesson for the whole group at some point, so I guess this was just practice.
Wednesday, June 20
Not the best start to the day. It finally came off.
Neither the bike nor I were damaged (it didn't break; it just wiggled off), but it did make me a few minutes late to work since I had to walk it home and grab Stephan's bike (he usually takes the bus).
Today we did some more Unity training. I finished up my plane game and walked around helping others.
We heard some more in-depth descriptions of each of the Deeper Dive topics. Unity Immersive focuses on creating a virtual reality experience for Vive, Oculus, or mobile VR with a focus on interaction paradigms. 3D Printing involves learning how printers work and making some common things like math models or small replacement parts. Unity Shaders/C6 is about programming GPUs (graphical processing units) and a $6 million virtual reality room.
I'm in the last one, since I have some experience in the other topics. I'm happy to have the opportunity to learn GPU programming, since it's something that I've been meaning to teach myself for quite a while now. I'm very comfortable with the low-level design and operation of CPUs, but I only know the high-level operation of a GPU. Hopefully it'll be the right environment to get some of my long-standing questions answered!