AREDA
Augmented Reality (AR) authoring
Computer vision
Point clouds
Object detection and tracking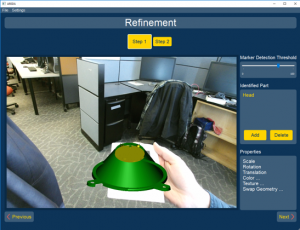 The goal of this project was to develop the Augmented Reality Expert Demonstration Authoring (AREDA) product to provide a simple and intuitive method for rapidly authoring AR work instructions. Click here to read more.
---
3DVision
Light Based
Particles
Motion Capture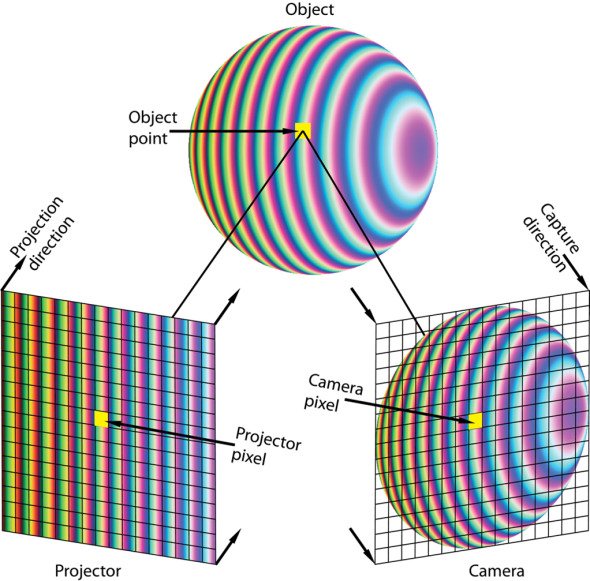 Structured Light process of getting Depth Images
High-Resolution, Real-time 3D Shape Measurement for Particle Motion Capture.
This project aims to study the methodology for capturing and measuring particles by means of a structured light based camera to create depth images and computer vision techniques to process these depth images for analysis. Click here to read more
---
ASDS
3D CAD
Collaborative
Concept Generation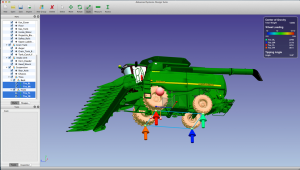 Advanced Systems Design Suite (ASDS) is a product design tool developed for John Deere, and is used for conceptual design during the early stages of product development. Click here to read more
---
BattleSpace
Optimization
UAV Control
Swarm Optimization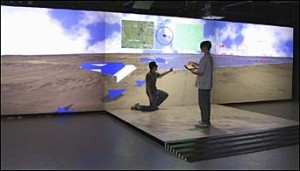 The military has a clear picture of the force it would like to field in the coming decades and this image has a single prevailing theme: the integration of manned and unmanned units. The addition of unmanned units will decrease the danger soldiers face in direct combat, and the DoD (Department of Defense) road map calls for an immediate and sustained increase in the use of unmanned units, starting with unmanned aerial vehicles (UAVs) (2002). Click here to read more
---
Bio-Oil Gasification
Metamodeling
Curve fitting
3D simulation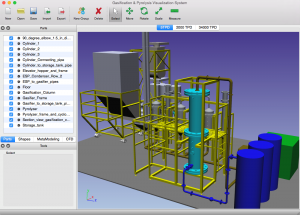 This project created metamodels to compute the estimated hydrogen gas, carbon monoxide, carbon dioxide, and nitrogen gas by-products from creating synthesize transportation fuel from gasified bio-oil. The metamodels allowed for real-time calculations based on the predetermined values produced from Computational Fluid Dynamics (CFD) simulations. Three different metamodel schemes were used to calculate the pressure, temperature, and equivalence ratios in order to determine the best fit.
---
InterchangeSE
The goal of InterchangeSE project is to design, develop, and demonstrate a federated multi-modal simulation environment, as a new means of studying interactions among several stakeholders representing different decision perspectives in a partially connected-automated multi-modal transportation system. InterchangeSE will allow complex simulated scenarios involving live and virtual participants to be initialized and run. Its features include multi-player interactions, representation of different decision perspectives and dynamically changing scenarios, different levels of immersion, and interactions with real-world performance monitoring. InterchangeSE will be developed based on existing virtual reality/augmented reality technologies and a software architecture with connectivity and communications between independent hardware and road traffic simulator software components such as PTV VISSIM and CARLA.
---
LVC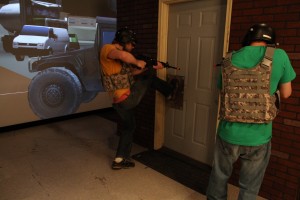 The Live, Virtual, Constructive (LVC) project conducts research that leads to evidence based decisions about the most effective training systems and produces prototypes that push the cutting edge of technology-enhanced training. Click here to read more
---
Medical Imaging
3D Rendering
Teaching Tool
CT and MRI Visualization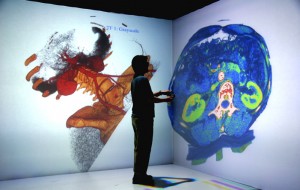 Graphics technology has extended medical imaging tools to the hands of surgeons and doctors, far beyond the radiology suite. However, a common issue in most medical imaging software is the complexity for non-radiologists to access the patient's information. Therefore, the Isis project was started to research the area of building medical imaging software for non-radiologists. Click here to read more
---
Factory of the Future
Augmented Reality
Simulation & Training
Microsoft HoloLens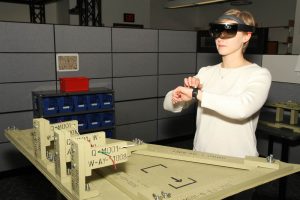 Large scale manufactures such as The Boeing Company spend large sums of money each year to train new personnel in complex assembly tasks. But training costs both time and money, and reduces the productivity of the assembly line. The Factory of the Future research and design project funded by The Boeing Company sought to reimagine this training process and reduce training costs by employing augmented reality hardware using the Microsoft HoloLens. Click here to read more
---
SOMViz
Optimization
Visualization
Self Organizing Map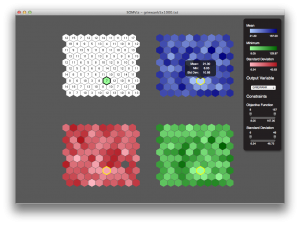 Today's mechanical design industry is becoming increasingly complex due to many factors including, but not limited to budget cuts and higher performance expectations. When attempting to design for new objectives, designers must first understand the scope of the problem, and understand the design from an analytical standpoint.
However, often problems are becoming so complex that this is not possible without the assistance of computer simulation and modeling. Due to human visual capabilities, data visualization has become a commonly used technique to forgo some of the problems introduced by this growing data complexity.
SOMViz (Self-Organizing Map Visualization) is an application giving designers and engineers the ability to extract characteristics and trends of high-dimensional data using a directly interpretable 2D visualization of what would otherwise be impossible for a human to cognitively make sense of. Click here to read more
---
VAMVIS
Virtual Additive Manufacturing Visualization Investigation Simulation (VAMVIS)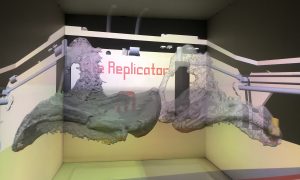 VAMVIS is an Additive Manufacturing (AM) process simulation application. It is intended to help novice users avoid 3D print failures prior to using low-cost "desktop" (<$5,000) 3D printers. The desktop 3D printer sector of the AM industry continues to be the most competitive sector in the Additive Manufacturing (AM) industry. Profits from sales of materials, machines, and services make up a small portion of the industry's market value ($7.3 billion in 2018). Desktop 3D printing systems come with free Computer Aided Manufacturing (CAM) software intended to help novice users print parts. The problem is that CAM software provides few features to help novice users avoid print failures.
---
Virtual Reality (VR) Training Platform for Manufacturing
Commodity Virtual Reality (VR) headsets have begun to reach the market, making VR technology more affordable and easier to purchase, set up, and use by consumers. While most consumers purchase VR headsets for gaming purposes, engineering companies are starting to realize their potential use in design, manufacturing, and training. The VR training platform for manufacturing is currently being developed to cut time needed to train employees, increase task comprehension, and minimize nerves that new employees face when training on a real assembly line for the first time.
---
Designing Expert Systems for Small Datasets
Benefits associated with machine learning are extensive. Industry is increasingly beginning to recognize the wealth of information stored in the data they are collecting. To sort through and analyze all of this data, specialized tools are required to come up with actionable strategies. Often this is done with supervised machine learning algorithms. While these algorithms can be extremely powerful data analysis tools, they require considerable understanding, expertise, and a significant amount of data to use.